Maintaining a bright and radiant smile is a goal that many of us strive for. With advancements in dental technology, achieving a dazzling set of pearly whites is now more accessible than ever.
If you're looking to enhance your smile and regain your confidence, we've got you covered. On this list, we've curated the eight best teeth whitening solutions available in 2023. From professional-grade treatments to innovative at-home kits, these products have been carefully selected based on their effectiveness, safety and customer satisfaction.
Say goodbye to stains and discoloration, and say hello to a smile that truly shines. Let's dive into the top teeth whitening options that will transform your dental care routine this year.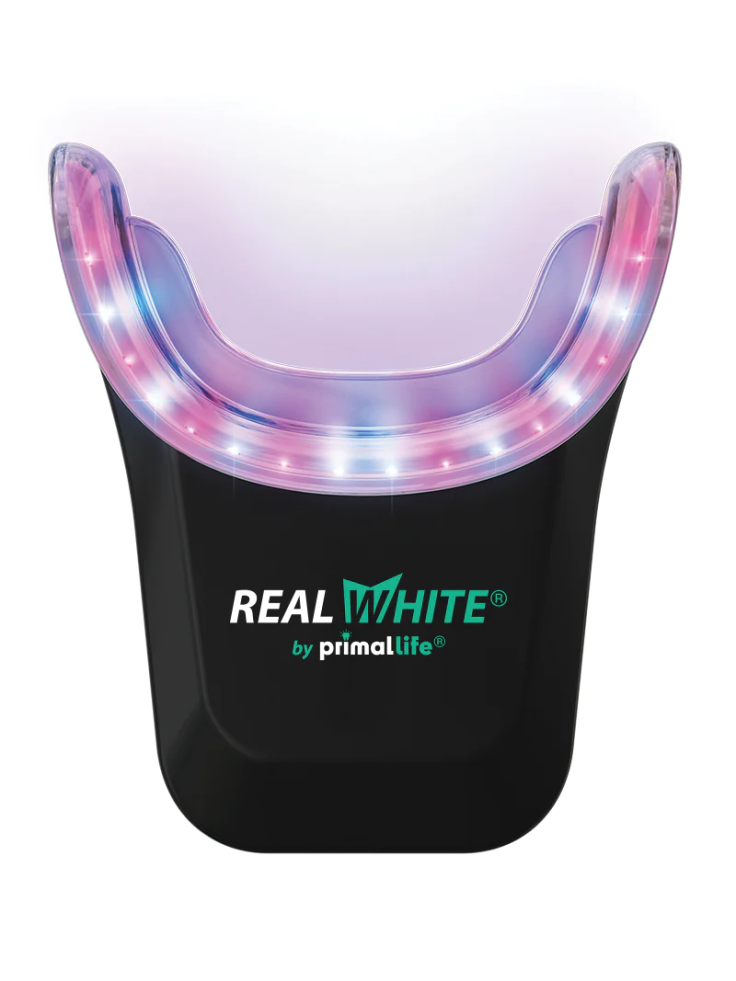 Primal Life Organics Real White Natural Teeth Whitener is a breakthrough oral care solution that utilizes nature's power to whiten teeth effectively. Formulated with organic, plant-based ingredients and free from harsh chemicals and artificial flavors, it offers a safe and eco-friendly option for teeth whitening. Its activated coconut charcoal lifts surface stains gently without damaging enamel, making it suitable even for those with sensitive teeth and gums.
Unlike traditional teeth whitening products, Real White offers a gentle and soothing experience suitable for those with sensitive teeth and gums, ensuring a pain-free journey to a brighter smile. Whether applied directly to a toothbrush or mixed with water as a whitening paste, this versatile product delivers long-lasting results by gradually eliminating stains caused by common culprits like coffee, tea and wine.
Rest assured, not only will your smile shine brighter, but you'll also be contributing to environmental sustainability, as Primal Life Organics is committed to eco-friendly packaging and ensures top-quality standards by involving oral care experts and dental professionals in the product's creation. With Real White, you can embrace a radiant and confident smile while contributing to a healthier planet.
Unmatched in its innovation, this dentist-invented LED mouthpiece utilizes professional-grade heat technology to achieve the ideal temperature for faster and brighter teeth whitening while using less hydrogen peroxide. The result? No sensitivity and instant, impressive results that leave you with a radiant smile.
Glo Science's Teeth Whitening System has been clinically proven to remove stains and whiten teeth by up to 5 shades with just four eight-minute sessions per day over five days. Each kit includes 10 vials, providing you with a complete 10-day application for maximum effectiveness.
Rest assured, this teeth whitening technology is 100% safe for your enamel, crowns, bridges and veneers. The hands-free design allows you to multitask while you whiten, making it a convenient addition to your daily routine. The premium zip travel case not only keeps all the components organized but is also perfect for storage when not in use.
Experience the power of this original, patented LED light teeth whitening technology and unlock your dazzling smile today!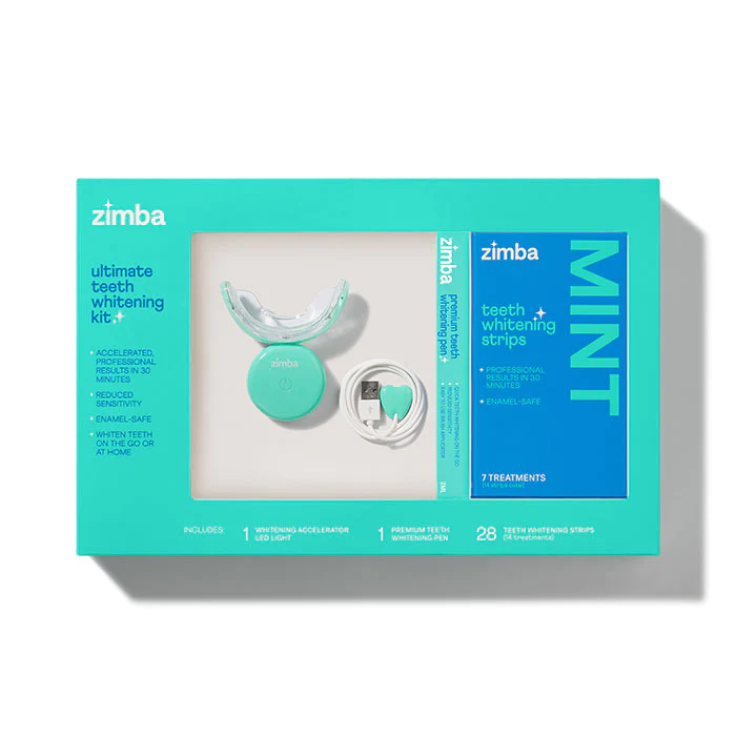 If you're looking for an effective teeth whitening solution that is extra gentle on sensitive teeth, look no further than Zimba Teeth Whitening Strips + LED Accelerator. This powerful combination provides a comprehensive whitening treatment that delivers remarkable results while prioritizing your dental health.
One of the standout features of this whitening system is its gentle approach toward sensitive teeth. Zimba understands the importance of a pain-free whitening experience, which is why its whitening strips are specifically designed to be extra gentle. You can achieve a brighter, whiter smile without any discomfort or sensitivity.
What sets Zimba Teeth Whitening Strips and LED Accelerator apart is the inclusion of an LED light for whitening acceleration. This innovative technology enhances the whitening process by activating the whitening agents in the strips, allowing for faster and more effective results. The LED light works in harmony with the strips to deliver a comprehensive whitening treatment that leaves you with a dazzling smile.
To ensure maximum convenience and compatibility, Zimba Teeth Whitening Strips + LED Accelerator comes with three connectors — USB, Micro USB and Lightning. This means you can easily power the LED accelerator using your preferred device, whether it's a computer, phone or tablet. There is no need to worry about running out of battery or finding a compatible power source.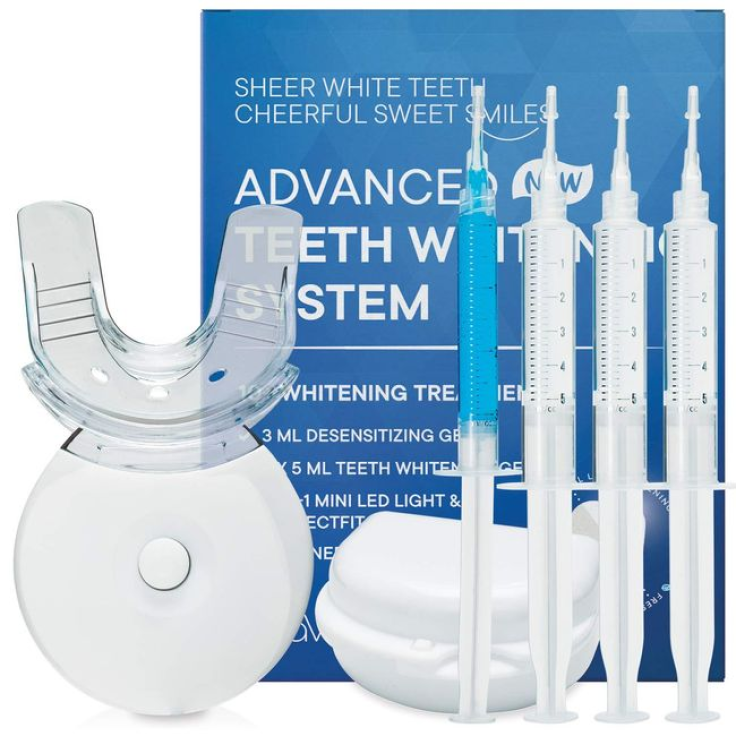 If you're trying to achieve professional teeth whitening results without the hassle or expense, the AsaVea Teeth Whitening Kit may be your solution! With their special LED light and premium formula, you can experience a brighter and whiter smile in as little as seven days with just 30 minutes of treatment each day.
Say goodbye to stains from coffee, tea, smoking, aging, wine and more. This kit is designed to tackle them all. The LED light that comes with the kit boosts the power of the carbamide peroxide gel included, ensuring fast and effective results. You'll be amazed at how quickly your teeth will brighten up in just seven to 10 days.
Worried about sensitivity? Don't be! Our formula is specially made for those with sensitive teeth. It's gentle enough for your gums and enamel, but still strong enough to tackle those pesky dark stains. Plus, you can even use this kit without the tray if you prefer. Just apply the gel directly to your teeth with a cotton swab, insert the light into your mouth and voila! A comfortable whitening experience tailored to your needs. The formula is gentle on enamel, gums, veneers and braces, so you can confidently use it without any worries.
So why wait? Say goodbye to messy strips, moldable trays and expensive dental procedures. Try the AsaVea Teeth Whitening Kit and see the difference for yourself. Get ready to flash a confident, bright smile that will leave everyone in awe.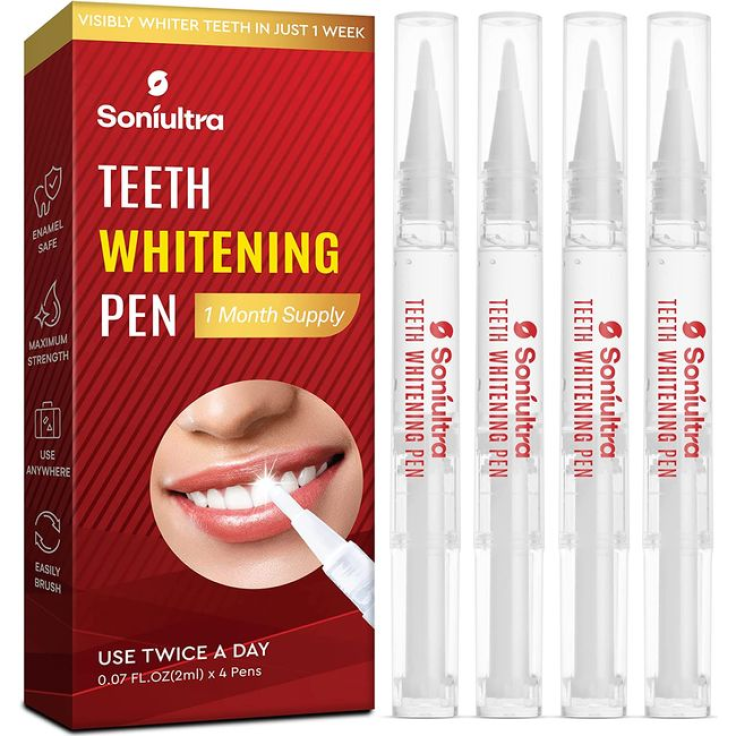 Are you dreaming of a brighter smile? The Soniultra Whitening Pen, with its advanced whitening technology, is designed to be fast and effective, giving you visibly whiter teeth in just one week. That's right, in as little as seven days, you can experience a noticeable improvement in the color of your teeth.
For brighter results, it is recommended to incorporate the whitening pen into your daily routine by using it twice a day. Apply it 30 minutes before sleeping at night and 30 minutes before heading out in the morning.
This whitening formula is powered by carbamide peroxide, which is a safe and effective ingredient for whitening teeth. You don't have to worry about swallowing a small amount of gel applied to your teeth as it gets mixed with saliva, as it's completely safe. Just be sure to avoid drinking the gel directly from the pen. If you're not a fan of the taste, you can rinse it off after 30 minutes of application. Speaking of taste, this gel has a mild flavor, so it won't leave an unpleasant aftertaste in your mouth.
With Soniultra, you get a generous supply of four pens in one pack, providing you with a one-month supply. Each pen can be used for 70+ applications, making it the most cost-effective combo you can find. The pens are small enough to fit in your purse or pocket! Whether you're traveling, at work or out with friends, you can easily carry and apply the whitening gel whenever you have a spare moment.
Don't wait any longer to achieve the whiter teeth you've always wanted. Get your Soniultra Whitening Pen today and experience the confidence that comes with a dazzling smile!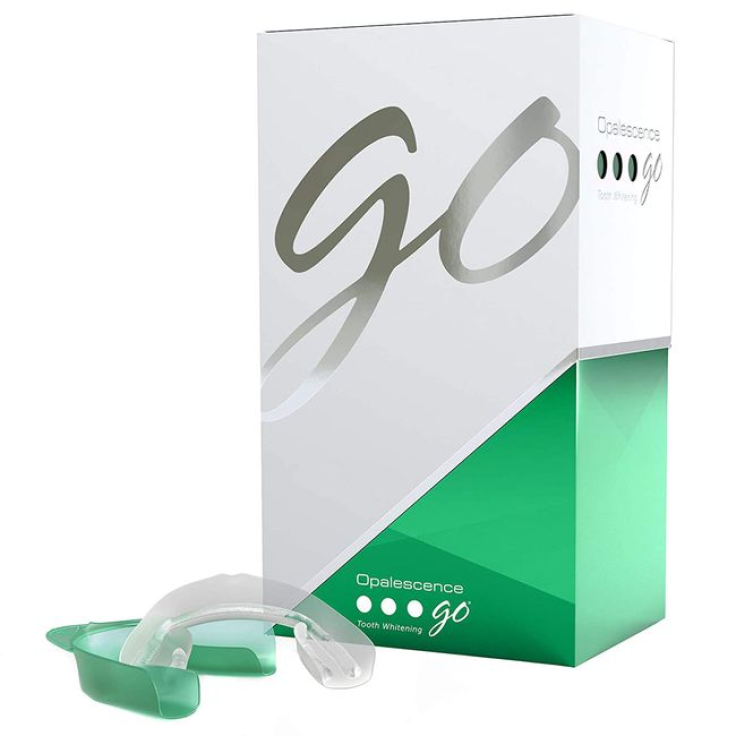 If you're up for a quick and effective way to whiten your teeth, Opalescence Go teeth whitening is here to deliver. With its prefilled teeth-whitening trays, Opalescence Go offers a professional-grade whitening experience without the hassle of custom-made trays or trendy gimmicks like LED lights or activated charcoal.
These prefilled trays are made of a unique, highly adaptable material that comfortably conforms to any smile. Opalescence Go's UltraFit (TM) tray ensures a remarkably comfortable fit, allowing you to wear it right out of the package.
Opalescence Go teeth whitening gel also contains hydrogen peroxide, a tried-and-true whitening ingredient. With a 15% strength, it chemically whitens your teeth to reveal a brighter smile. No need to worry about complicated application procedures or uncertain wear times. Simply wear the trays for 15 to 20 minutes per day with the 15% gel or 30 to 60 minutes per day with the 10% gel, depending on your desired results.
But Opalescence Go doesn't just stop at teeth whitening. It's also designed with dental care in mind. The gel is gluten-free, kosher and sweetened with xylitol, which may help reduce the risk of tooth decay. With Opalescence Go, you can whiten your teeth while supporting your overall dental health.
Whether you're looking for a convenient alternative to over-the-counter whitening kits or a professional-grade solution, Opalescence Go has you covered. With Mint or Melon flavors and flexible wear times, you can take this teeth whitening system anywhere and achieve a white smile whenever and wherever you want.
Aroamas Teeth Whitening Kit has a special LED light and premium formula where you can experience professional whitening results in as little as 7 days with just 30 minutes of treatment each day. So it's time to say goodbye to stains from coffee, tea, smoking cigarettes, aging, wine and more!
The LED light included in the kit boosts the power of the carbamide peroxide gel, helping you achieve a perfect smile even more quickly. The formula is specially designed for those with sensitive teeth, and the whitening gel is gentle enough for your gums and enamel while still strong enough to eliminate dark stains.
Aroamas Teeth Whitening Kit's mouth tray is designed for a comfortable fit and is universal in size. However, if you prefer, you can even use the kit without the tray. Simply apply the gel directly to your teeth with a cotton swab, then insert the light into your mouth. Enjoy a hassle-free and comfortable whitening experience!
This kit is not only effective but also convenient and travel-friendly. With its simple directions and compact size, you can easily incorporate it into your daily routine, no matter where you are. Whiten your teeth up to eight shades brighter with our gentle and easy-to-use kit.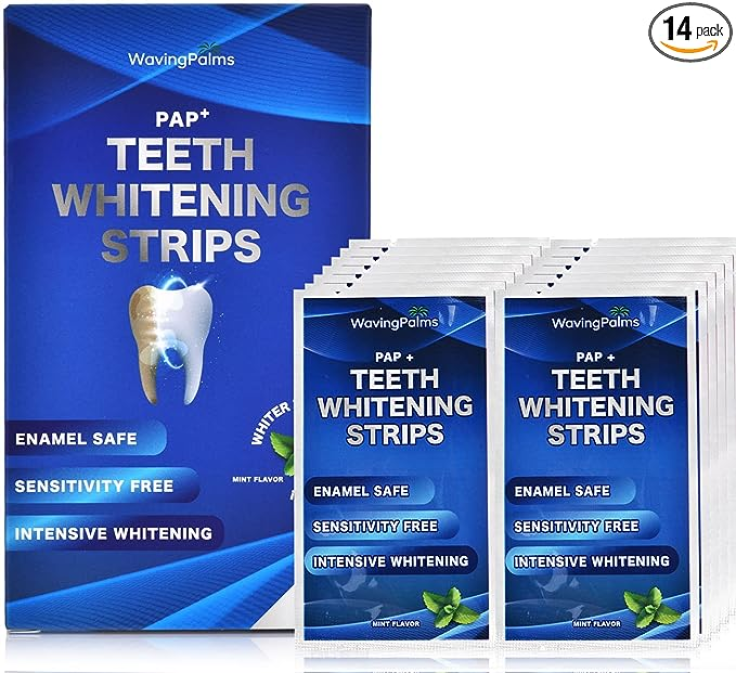 These teeth whitening strips are the perfect solution for achieving a brighter smile. These effective strips gently remove stains from coffee, tea, wine and smoking, leaving a pleasant menthol sensation. Formulated with top-grade ingredients, they are safe for sensitive teeth, making them suitable for everyone. The advanced anti-slip technology ensures the strips adhere securely, allowing you to continue your daily activities while whitening your teeth. In just 30 minutes a day, these quick and easy-to-use strips provide visible whitening results within a week and can make your teeth five to seven shades whiter with consistent use over two weeks. Each kit contains 14 sets of strips for a full 14-day treatment, accompanied by a tooth color comparison chart and user manual, making it the perfect teeth whitening solution.
Teeth whitening technology and solutions have revolutionized the way we enhance our smiles. With advancements in the field, achieving a brighter, whiter smile is now more accessible and convenient than ever before.
These solutions offer professional results in the comfort of your own home, with fast and effective outcomes in as little as a week. They cater to sensitive teeth, ensuring a comfortable experience for all users. The convenience factor is also noteworthy, as portable whitening pens and prefilled trays make incorporating teeth whitening into your routine hassle-free. These solutions not only improve aesthetics but also boost self-confidence and overall well-being.
As the field continues to evolve, the future holds even more promising advancements in teeth whitening. Embrace the power of a radiant smile and enjoy the positive impact it can have on your life with the wide range of teeth whitening options available.
Published by Medicaldaily.com